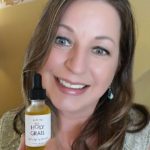 This is me today, at age 58 and a grandmother of three!
So many people are amazed when I tell them my age.  They always ask, what's your secret?  Well, now I can finally share that with you.
Oct. 2017
I've created an anti-aging skincare serum that's amazingly transformed my skin!  It's absolutely the Holy Grail of serums, and that's how it got its name.
I've been formulating HOLY GRAIL for nearly a year now.  My goal was to create a formula that would; give rapid results to revitalize, repair and reverse the signs of aging skin.  A serum that would continue to improve my skin, not just a temporary fix.  And lastly, Holy Grail is for all ages, genders, skin types, and so affordable too.
I use Holy Grail morning and evening, and some times I spot treat my skin during the day.  I begin seeing amazing changes in my skin from the very first use.  I tried it on my saggy and crepey skin on my neck and biceps, and wow, I couldn't believe my eyes!!!  I love the way my skin looks and feels now, no more dryness and it's super soft.  Nasty age spots are barely visible, or completely gone.  My wrinkles and fine lines nicely softened and diminished.
Being a skin care naturalist and eco-chic my serums are formulated only with 100% pure and natural organic ingredients.  This is the only thing you'll need to put on your skin.  Holy Grail will take care of all your skin care needs, from Aging to Zits! 😉
Give it a try.  I guarantee you'll love it!!!  Feel free to contact me for product questions or your skin care needs.
Mary Tacia – Bella Ve Beauty
(360) 929-0392